Great Chesapeake Bay Schooner Race Inc.
Schooner Virginia - Nauticus Foundation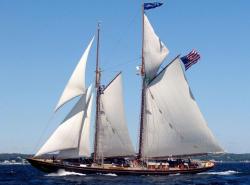 Docked at Nauticus in Downtown, Norfolk, VA the Schooner Virginia serves the Nauticus mission in engaging the Hampton Roads community with a focus on delivering transformative maritime experiences and hands on learning to students of all backgrounds and ages, museum visitors and the general public. The Schooner Virginia's programming emphasizes STEM education, maritime history, tall ship training, workforce development and the conservation of our local waterways.
Schooner Virginia is raising funds for the Nauticus Foundation, the nonprofit organization established to promote the mission and activities of Nauticus. Norfolk, Virginia's Nauticus is an exciting interactive science and technology center that explores the naval, economic, and nautical power of the sea. It serves as home to the historic Battleship Wisconsin, the Schooner Virginia, and much more. The Nauticus Foundation's mission is to benefit its community through education, impactful experiences and by sharing access to maritime resources.
The Schooner Virginia is a loyal participant in the Great Chesapeake Bay Schooner Race. The race is something supporters and volunteers look forward to each year. Virginia's participation in the virtual race not only helps raise critical revenue to support the foundation, but also to promote passion for tall ships and continued education for the public.
ABOUT 2020 Virtual Race
In a normal year, the Great Chesapeake Bay Schooner Race takes dozens of schooners out on the Bay, racing from Baltimore down to Norfolk. But 2020 is not a normal year.
This year, we're holding a Virtual Race! Each of our schooners has picked a nonprofit partner, and is racing to raise as much money as possible for charity. YOU can participate in the race by choosing a schooner, making a contribution, and sharing this webpage with your family and friends! 100% of gifts will go directly to charity, and will help make the Chesapeake Bay region a healthier, stronger, and more beautiful place to live.


Donations of $50 to $249 will receive a Commemorative Face Mask. Donations of $250 and above will receive a Commemorative "Q" Flag Burgee !!!!
Gifts are considered tax-deductible contributions to the Great Chesapeake Bay Schooner Race. At the end of the race, GCBSR will contribute 100% of your donation directly to your team's charitable cause.
Please note: The Chesapeake Bay schooner community could not exist without people like you, and we're eager to keep in touch. If you opt in to email communications when you donate, GCBSR will share your contact information with the schooner you support, as well as the partner nonprofit that will receive your donation. If you do not wish to be contacted, please opt out of communications on the donation form.
Supporters
Name
Date
Amount
Comments
Stephen Kirkland
10/17/2020
$200.00
Stephanie Sweeney
10/17/2020
$51.80
Katie Guy
10/17/2020
$51.80
Ron & Barri Soreil
10/17/2020
$51.80
May you always have fair winds!
Paul OKeefe
10/16/2020
$175.50
Schooner Va - Part of a great organization
Diane Wells
10/16/2020
$20.91
Grant Simmons
10/16/2020
$51.80
Go Virginia!
Carson Haack
10/16/2020
$51.80
Douglas Union
10/16/2020
$51.80
Keep Her Sailing ! ⛵️
Pearl Windle
10/16/2020
$51.80
Anonymous Friend
10/16/2020
$103.30
Preston Carraway
10/16/2020
$515.24
Keep the spirit alive! Preston & Sherry Carraway
Hannah Twiddy
10/16/2020
$257.78
11:01:41! From CCSC
Terry Wright
10/16/2020
$51.80
Joshua & Lisa C. Navone
10/16/2020
$520.60
Russ & Ann Sage
10/16/2020
$103.30
Godspeed Virginia - The fastest and most beautiful Schooner on Chesapeake Bay!
David Rosedale
10/15/2020
$102.02
Thank you for all you do.
KC Fullmer
10/15/2020
$51.80
Virginia is for tall ship Lovers!
John Pitron
10/15/2020
$103.30
TC Jones
10/15/2020
$20.91
Schooner Volunteers rock!
Vincent Tophoff
10/14/2020
$100.00
Let's sail!
Mark and Ava Kahles
10/14/2020
$260.46
Paul Simko
10/14/2020
$20.91
Steve Earley
10/14/2020
$26.06
Rehn West
10/14/2020
$26.06
Nick Wheeler
10/14/2020
$26.06
Michael Bevis
10/14/2020
$51.80
Kristopher McClellan
10/14/2020
$51.80
Clyde Nordan
10/14/2020
$51.80
Total
$3,204.01