Great Chesapeake Bay Schooner Race Inc.
Lady Maryland - Living Classrooms Foundation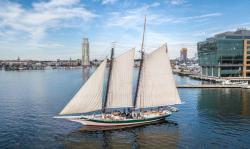 The schooner Lady Maryland has been sailing the waters of the Chesapeake Bay since 1986, and is the flagship of the Living Classrooms Foundation. Since her launch, Lady Maryland has participated in nearly every Schooner Race and is the only vessel that carries students across the finish line. During the Race, students aboard Lady Maryland work side by side with the crew to stand watch, navigate, steer and handle sail.
On most days of the year, Lady Maryland can be found on the Patapsco River running day-sail programs with students from a variety of backgrounds and economic means. During Maritime Environmental STEM Voyages, students work together to trawl for marine life, perform scientific experiments and explore the commerce, history, natural resources, and ecosystems of the Chesapeake Bay. This has been a challenging year, but Lady Maryland is proud to be serving local students in Baltimore and is looking forward to the introduction of a Virtual Field Trip in the Fall of 2020 and a sailing season in 2021.
The mission of the Living Classrooms Foundation is to disrupt the cycle of poverty and help our communities in Baltimore and Washington, DC become safer, stronger, and healthier. Funds raised for the Living Classrooms Foundation will support their efforts in education, workforce development, health and wellness, and violence prevention.
ABOUT 2020 Virtual Race
In a normal year, the Great Chesapeake Bay Schooner Race takes dozens of schooners out on the Bay, racing from Baltimore down to Norfolk. But 2020 is not a normal year.
This year, we're holding a Virtual Race! Each of our schooners has picked a nonprofit partner, and is racing to raise as much money as possible for charity. YOU can participate in the race by choosing a schooner, making a contribution, and sharing this webpage with your family and friends! 100% of gifts will go directly to charity, and will help make the Chesapeake Bay region a healthier, stronger, and more beautiful place to live.


Donations of $50 to $249 will receive a Commemorative Face Mask. Donations of $250 and above will receive a Commemorative "Q" Flag Burgee !!!!
Gifts are considered tax-deductible contributions to the Great Chesapeake Bay Schooner Race. At the end of the race, GCBSR will contribute 100% of your donation directly to your team's charitable cause.
Please note: The Chesapeake Bay schooner community could not exist without people like you, and we're eager to keep in touch. If you opt in to email communications when you donate, GCBSR will share your contact information with the schooner you support, as well as the partner nonprofit that will receive your donation. If you do not wish to be contacted, please opt out of communications on the donation form.
Supporters
Name
Date
Amount
Comments
Anonymous Friend
10/17/2020
$51.80
James Bond
10/17/2020
$515.24
Lynn Perez-Tamayo
10/17/2020
$515.24
Kate Maynard
10/17/2020
$51.80
Lexter Braxton
10/17/2020
$31.20
Ellen/Myron Ashet
10/17/2020
$50.00
Wishing you a safe speedy voyage
Anonymous Friend
10/17/2020
$2,106.39
Wendy Tribulski
10/17/2020
$51.00
Joe & Helene Bowes
10/17/2020
$51.80
Jen Roberts
10/17/2020
$20.91
Jill Hughes
10/17/2020
$15.76
Love all the updates Tim!
Kate Riley
10/17/2020
$51.80
Donald Cameron
10/17/2020
$103.30
Sarah Armour
10/17/2020
$26.06
For B.
Carol Farrell
10/17/2020
$103.30
Lori Raxenberg
10/17/2020
$26.06
Kelly Schweppenhauser
10/17/2020
$31.20
Johnny Davenport
10/17/2020
$26.06
Elizabeth Iannacone
10/17/2020
$103.30
Sail strong Lady Maryland!
Logan Dean
10/17/2020
$20.91
Martin Coffee
10/17/2020
$26.06
COME ON Lady Maryland!!!!!
Chris Rowsom
10/17/2020
$515.24
Marcia Kellogg
10/17/2020
$104.37
Anonymous Friend
10/17/2020
$309.27
COURTNEY BOWMAN
10/17/2020
$20.91
Anonymous Friend
10/17/2020
$3,089.91
Ellie Bolster
10/16/2020
$15.76
Sail strong on the seas of the interwebs
Rich Maier
10/16/2020
$20.91
Susanna DeRocco
10/16/2020
$20.91
Go Lady Maryland, Go!
Christine Cleary
10/16/2020
$51.80
Pamela Kellett
10/16/2020
$20.91
The Allen Family
10/16/2020
$103.30
Cheryl Ruppel
10/16/2020
$26.06
Fear the Pink
Jim & Beth Miller
10/16/2020
$257.78
Go Lady Maryland!
Scott Frush
10/16/2020
$103.30
Laura Fowler
10/16/2020
$25.00
From Laura & Joe Fowler
Colleen Allard
10/16/2020
$51.80
Katie Manion
10/16/2020
$26.06
Rick Hamilton
10/16/2020
$10.61
Gary and Kim Kish
10/16/2020
$206.28
To the best captain and crew on the bay.
Kevin Mager
10/16/2020
$103.30
I envy that crew!
Elizabeth Hall
10/16/2020
$5.46
Go Lady M!!!
Lilly Ackley
10/16/2020
$15.76
Spencer Knight
10/16/2020
$100.00
Josh and Tracy Biebesheimer
10/16/2020
$51.80
Fear the Pink!
Susan Hammond
10/16/2020
$26.06
Anonymous Friend
10/16/2020
$103.30
I emptied the cookie jar - I can see the line. The pin end is favored! Harden up and Go for It !
Ronnie Anderson
10/16/2020
$26.06
Thanks for many fond memories! -Ronnie and Ben
Vicky Vianna
10/16/2020
$20.91
Luke Atkinson
10/16/2020
$51.80
You're never far from my heart, Lady MD. Take care y'all! Fear the pink!
Martin Coffee
10/16/2020
$26.06
GO Lady Maryland!
Tyler Fortune
10/16/2020
$103.30
Sail on! Win this race!
Georgina Staley
10/16/2020
$103.30
Go Lady Maryland!
Allison Ballantine
10/16/2020
$62.10
May your sails be full and your varnish free of bubbles. Glad you are doing this awesome work, Tim!
Jen Holt
10/16/2020
$26.06
Holly Walker
10/16/2020
$51.80
In honor of Becca and all friendships aboard Lady Maryland.
Helen Ross
10/16/2020
$26.06
go lady maryland!
Kelly Bailey
10/16/2020
$26.06
Sail Strong! Sail Fast!!
Marie Roche
10/15/2020
$51.80
Miss you LCF and Lady Maryland! Fear the pink!
Gidget & Rob Berretta
10/15/2020
$103.30
Clio Macrakis
10/15/2020
$51.80
<3 2019 crew
The Frush Family
10/15/2020
$257.78
Bryn Shellenberger
10/15/2020
$26.06
Alyson Layne
10/15/2020
$26.06
Go Lady Maryland!!
Cindy Wadalavage
10/15/2020
$103.30
Thara Taylor
10/15/2020
$103.30
Go LCF and Lady Maryland!!
David Hager
10/15/2020
$257.78
Lorraine Warnick
10/15/2020
$26.06
Dan Walls
10/15/2020
$20.91
From Ginger and Dan Walls (prior crew) to the fastest Pungy there is!
Jamie Hedeman
10/15/2020
$51.80
Christine Schmidt Redline
10/15/2020
$20.91
Go us!
Jerome Jurick
10/15/2020
$51.80
Bart Merrick
10/15/2020
$26.06
Win this RACE!
Clifton Smoot
10/15/2020
$21.11
Anonymous Friend
10/15/2020
$1,030.18
Tiel Arnot
10/15/2020
$103.30
Tammi Stauffer
10/15/2020
$51.80
Annick Barker
10/15/2020
$51.80
Terry Mannion
10/15/2020
$103.30
Good Luck from Mobile Bay !
Joseph Iannacone
10/15/2020
$51.80
Rich Polt
10/15/2020
$26.06
Thanks Pete Bolster for bringing this event to my attention. Here is to important work you and your team do each year for education and our city.
Matt Slomba
10/15/2020
$51.80
Jeff & Molly Bolster
10/15/2020
$257.78
Keep up the good work!
Emma Wesoloski
10/15/2020
$31.20
Katie Trainor
10/15/2020
$51.80
Good luck and Hi Tim!
Lily/george Iannacone
10/15/2020
$100.00
Stewart Miley
10/15/2020
$31.20
For my main man Pete Bolster and the great work he does!
Larry Gleeson
10/15/2020
$31.20
I remember Tim from the Palm Theatre at Telluride Film Festival last year!
Frank & Christine Page-Ward
10/15/2020
$103.30
Fear the Pink!
Ed and Linda Muller
10/15/2020
$206.28
Keep up the great work!
Jim Narin
10/15/2020
$51.80
We love PINK
George Iannacone
10/15/2020
$103.30
Kate Holland
10/15/2020
$309.27
Fear the Pink!!!
Nancy and Jim Kowalski
10/15/2020
$64.16
Justin Dibble
10/15/2020
$154.79
Lets GOOOOOOO!!! Pinky Pungy Powerrrrrr!!!!!!!!
Paul & Amy Barhag
10/15/2020
$52.34
Norfolk Rebel will beat you yet again this year!
Chris Hope
10/15/2020
$41.50
Meghan Foley
10/14/2020
$26.06
Anonymous Friend
10/14/2020
$51.80
Elizabeth Iannacone
10/14/2020
$51.80
Jackie McGarry
10/14/2020
$26.06
For Tim
Lisa Jones
10/14/2020
$26.06
Fear the Pink!
Brandt Garber
10/14/2020
$51.80
Meg Ward
10/14/2020
$515.24
Steve Hadik
10/14/2020
$257.78
Self explanatory.
Julia Muller
10/14/2020
$257.78
Emily Johnston
10/14/2020
$20.91
For my favorite pungy and favorite crew!
Laura Kintz
10/14/2020
$103.30
Kate Kana
10/14/2020
$26.06
Fear the Pink!
Christine Truett
10/14/2020
$103.30
Hold fast - fair winds will come!
Alex Gibson
10/14/2020
$20.91
For a beautiful schooner and great foundation!
Jessie Wheedleton
10/14/2020
$103.30
You taught me to love the sea.
Justin Bradshaw
10/14/2020
$51.80
Sounds like an incredible program -- good luck on the race Tim and Team Lady Maryland!
Anne & Marston Price
10/14/2020
$51.52
Anonymous Friend
10/14/2020
$257.78
Saoirse McGee
10/14/2020
$20.91
Erin Hubbard
10/14/2020
$103.30
Arielle Katarina
10/14/2020
$26.06
Sam Lee
10/14/2020
$103.30
Fear the Pink!
Anne Wiggins
10/14/2020
$56.95
Mary Walker
10/14/2020
$51.80
2019 crew 4ever
Elin Af Klinteberg
10/14/2020
$103.30
Carey Rowsom
10/14/2020
$51.80
Get it, Lady Maryland!!!
Anonymous Friend
10/14/2020
$515.24
In honor of Becca Hadik
Peter Bolster
10/14/2020
$103.30
Mark Parker
10/14/2020
$51.80
Laura Page
10/14/2020
$103.30
Fear the Pink!
Rich and Kate Hilliman
10/14/2020
$77.55
The McCreerys
10/14/2020
$103.30
Ethan Johnson
10/14/2020
$51.80
Kathi Gochal
10/14/2020
$20.91
Fear the pink
Mary Reed
10/14/2020
$41.50
Sail on!!!
Doug & Kristin Siglin
10/14/2020
$154.79
Brian Tribulski
10/14/2020
$103.30
Joe Parvana
10/14/2020
$20.91
Lets Go Lady Maryland!
Diana McGee
10/14/2020
$103.30
So proud of Captain Nick and the Lady Maryland organization and all they do for the community.
Anna Vianna
10/14/2020
$20.91
Fear the Pink!
Anonymous Friend
10/14/2020
$25.00
Melissa Goodwin
10/11/2020
$51.80
Total
$18,217.74