Great Chesapeake Bay Schooner Race Inc.
Alliance - Watermen's Museum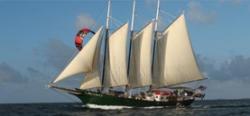 Schooner Alliance is a 105' steel schooner built in 1995 in Florida. She is owned and captained by Greg and Laura Lohse of Yorktown Sailing Charters, LLC.
Alliance is sailing this year on behalf of The Watermen's Museum, also based in Yorktown, VA. The museum's mission is to demonstrate the role Chesapeake Bay Watermen, from pre-colonial to modern times, have played in the shaping of our nation. The museum hosts historical exhibits depicting military and civilian water craft and activities, the crafts and methods of their trade, and a look into the lives of the people that have worked and fought on the water. The museum also is the destination for educational field trips, running programs for hundreds of schoolkids every year. GCBSR has lent its support to the Watermen's Museum's summer camp programs - sponsoring children in need of financial assistance and the families of military members and first responders.
The Alliance and the Watermen's Museum have been longtime partners. Alliance is often seen bringing kids from the summer camp program out on the water, or having a cannon battle with the camp's shore battery.
ABOUT 2020 Virtual Race
In a normal year, the Great Chesapeake Bay Schooner Race takes dozens of schooners out on the Bay, racing from Baltimore down to Norfolk. But 2020 is not a normal year.
This year, we're holding a Virtual Race! Each of our schooners has picked a nonprofit partner, and is racing to raise as much money as possible for charity. YOU can participate in the race by choosing a schooner, making a contribution, and sharing this webpage with your family and friends! 100% of gifts will go directly to charity, and will help make the Chesapeake Bay region a healthier, stronger, and more beautiful place to live.


Donations of $50 to $249 will receive a Commemorative Face Mask. Donations of $250 and above will receive a Commemorative "Q" Flag Burgee !!!!
Gifts are considered tax-deductible contributions to the Great Chesapeake Bay Schooner Race. At the end of the race, GCBSR will contribute 100% of your donation directly to your team's charitable cause.
Please note: The Chesapeake Bay schooner community could not exist without people like you, and we're eager to keep in touch. If you opt in to email communications when you donate, GCBSR will share your contact information with the schooner you support, as well as the partner nonprofit that will receive your donation. If you do not wish to be contacted, please opt out of communications on the donation form.
Supporters
Name
Date
Amount
Comments
Lea Gryk
10/17/2020
$51.80
Tim Smith
10/17/2020
$51.52
All the best.
Philip Bowditch
10/17/2020
$206.28
Go Alliance and Watermen's Museum
Bob & Lorraine Arduini
10/17/2020
$51.80
Thomas Carmines
10/17/2020
$51.80
Good luck!
Nancy McGill
10/17/2020
$51.80
Ben & Jerry's (Yorktown Frozen Assets)
10/17/2020
$500.00
Jacques Van Montfrnas
10/16/2020
$20.91
Marshall McWhirter
10/16/2020
$103.30
James & Carla Rice
10/16/2020
$51.80
Carleton & Elsa Bakkum
10/16/2020
$103.30
Steven Ormsby
10/16/2020
$103.30
Go Alliance!
Corey Roy
10/16/2020
$20.91
Tom SPELLMAN
10/16/2020
$31.31
Go Alliance!
Sean Connor
10/16/2020
$103.30
Go Alliance!!
Michele Townsend
10/16/2020
$51.80
Dano & Maho Quinn
10/16/2020
$26.06
David Kabler
10/16/2020
$51.80
Fair winds and following seas for the museum!
Colburn Crockett
10/16/2020
$77.55
Mary Kuppe
10/16/2020
$102.02
Good luck - From Emily, Andrew and Mary
Randy Pryor
10/16/2020
$102.02
Maria Cristina Di Stefano
10/16/2020
$21.12
Jocelyn Lohse
10/16/2020
$77.55
Many happy memories sailing with y'all!
Tom & Fran Butterfoss
10/16/2020
$103.30
Peter Kellogg
10/16/2020
$2,574.97
Jennifer Carver
10/16/2020
$103.30
Rudy Schreiber
10/16/2020
$5.46
My goodbye present to the Waterman's museum
Barbara McWhirter
10/15/2020
$103.30
Go Alliance and Waterman's Museum
Judith McDowell
10/15/2020
$103.30
Love Alliance! Love Watermen's!
Karen Burden
10/15/2020
$26.06
Teri & Bob Hodson
10/15/2020
$20.91
Jim&Joyce Dillard
10/15/2020
$26.06
Don't pinch
Sharon Bowers
10/15/2020
$51.80
Keith Jones
10/14/2020
$51.80
Go Alliance and Watermen's Museum!!!!
Mark Arduini
10/14/2020
$51.80
Go Alliance! Go Watermen's!
Anne & Pete Buse
10/14/2020
$103.30
Yorktown is very fortunate to have both the Schooner Alliance and the Watermen's Museum!
LESLIE and HANK VICCELLIO
10/14/2020
$102.02
Thanks, Laura and Greg!
Richard Gay
10/14/2020
$103.30
All hands to the rail! Best of luck.
Total
$5,543.73