Great Chesapeake Bay Schooner Race Inc.
Celebration - Richardson Maritime Museum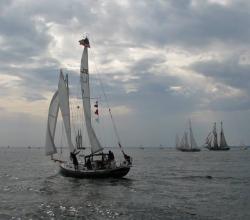 Celebration is hull number 17 in the Ted Brewer-designed Lazy Jack 32 series of fiberglass production schooners. Built in 1977 by the Ted Hermann Boat Shop in Long Island, NY, she was originally sold to John Kendall in Media, Pennsylvania, as a sail-away kit boat. In the GCBSR she took third in her class in 1999, placed third in 2002 in a fleet of 15 that endured high winds for 12 hours, and in 2004 she placed third. She changed hands in 2007, but is still located on the Chesapeake Bay. Her current owner, Paul Schaub, is a long-time volunteer for the race.
Celebration is raising money this year for the Richardson Maritime Museum in Cambridge, Maryland. The Museum was founded in memory of Capt. James B. Richardson, a prominent local boatbuilder. "Mr. Jim's" dedication to the traditional wooden boatbuilding skills and to passing on those skills to new generations of boatwrights inspired the founders of the Museum to establish an organization dedicated not just to preserving his memory, but to continuing his efforts at keeping the art of wooden boatbuilding alive. The Museum, along with the Ruark Boatworks and the Brannock Education and Research Center, is dedicated to "preserving and promoting the boat building heritage of Dorchester County and the Chesapeake Bay area of Maryland."
ABOUT 2020 Virtual Race
In a normal year, the Great Chesapeake Bay Schooner Race takes dozens of schooners out on the Bay, racing from Baltimore down to Norfolk. But 2020 is not a normal year.
This year, we're holding a Virtual Race! Each of our schooners has picked a nonprofit partner, and is racing to raise as much money as possible for charity. YOU can participate in the race by choosing a schooner, making a contribution, and sharing this webpage with your family and friends! 100% of gifts will go directly to charity, and will help make the Chesapeake Bay region a healthier, stronger, and more beautiful place to live.


Donations of $50 to $249 will receive a Commemorative Face Mask. Donations of $250 and above will receive a Commemorative "Q" Flag Burgee !!!!
Gifts are considered tax-deductible contributions to the Great Chesapeake Bay Schooner Race. At the end of the race, GCBSR will contribute 100% of your donation directly to your team's charitable cause.
Please note: The Chesapeake Bay schooner community could not exist without people like you, and we're eager to keep in touch. If you opt in to email communications when you donate, GCBSR will share your contact information with the schooner you support, as well as the partner nonprofit that will receive your donation. If you do not wish to be contacted, please opt out of communications on the donation form.
Supporters
Name
Date
Amount
Comments
Paul Schaub
10/17/2020
$13.70
Stu Durward
10/16/2020
$104.33
Daniel Crawford Hall
10/16/2020
$103.30
VALERIE HOLSTEIN
10/16/2020
$26.06
Lisa Forbes
10/16/2020
$51.80
In loving memory of Ralph, Rupert, Wally, Jay and Toni. Haul away the anchor tis your sailing time. Fairwinds my friends.
Michael Moore
10/15/2020
$51.80
Paul Schaub
10/15/2020
$132.17
Nancy Alexander
10/15/2020
$154.96
'One more day, me Johnny, One more day'
Eric Moseson
10/15/2020
$103.30
Paul Schaub
10/15/2020
$12.67
Edward S Phillips
10/15/2020
$113.24
Congratulations on meeting Celebrations' goal!
Daniel Crawford Hall
10/15/2020
$103.30
Peter & Kate GENTRY
10/14/2020
$103.30
Great Job getting things set up! Super cause, very worthy! Talk with you all Soon! Pete & Kate
James Davis
10/14/2020
$51.80
Total
$1,125.73