Great Chesapeake Bay Schooner Race Inc.
Adventurer - Downtown Sailing Center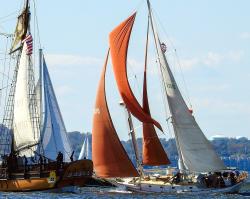 Schooner Adventurer, captained by the renowned Duncan Hood, will be raising funds for the Downtown Sailing Center in Baltimore, MD.
The Downtown Sailing Center (DSC) is an award-winning, nonprofit 501 (c)(3) community sailing center offering sailing instruction and access to sailing through a variety of programming to the greater Baltimore community since 1994. They provide quality educational and life-enriching programs that promote self-esteem and teamwork through the joy of sailing. The Downtown Sailing Center is committed to promoting an environment of inclusiveness and accessibility, especially to youth, persons with disabilities, and those with limited opportunities.
Click here to learn about the race
Click here to watch a video on What the race is like on Adventurer
ABOUT 2020 Virtual Race
In a normal year, the Great Chesapeake Bay Schooner Race takes dozens of schooners out on the Bay, racing from Baltimore down to Norfolk. But 2020 is not a normal year.
This year, we're holding a Virtual Race! Each of our schooners has picked a nonprofit partner, and is racing to raise as much money as possible for charity. YOU can participate in the race by choosing a schooner, making a contribution, and sharing this webpage with your family and friends! 100% of gifts will go directly to charity, and will help make the Chesapeake Bay region a healthier, stronger, and more beautiful place to live.


Donations of $50 to $249 will receive a Commemorative Face Mask. Donations of $250 and above will receive a Commemorative "Q" Flag Burgee !!!!
Gifts are considered tax-deductible contributions to the Great Chesapeake Bay Schooner Race. At the end of the race, GCBSR will contribute 100% of your donation directly to your team's charitable cause.
Please note: The Chesapeake Bay schooner community could not exist without people like you, and we're eager to keep in touch. If you opt in to email communications when you donate, GCBSR will share your contact information with the schooner you support, as well as the partner nonprofit that will receive your donation. If you do not wish to be contacted, please opt out of communications on the donation form.
Supporters
Name
Date
Amount
Comments
Dan Powell
10/17/2020
$114.74
To our dear friend Colin Mably whose spirit rides on the wind and in our hearts everyday.
Jim Laughlin
10/17/2020
$20.91
Katie Guy
10/17/2020
$51.80
Keith Jones
10/17/2020
$51.80
Thanks Captain Duncan for the opportunity to crew on Adventurer and the opportunity to be involved with the GCBSR organization. May your virtual sails be filled and you avoid virtual fish traps at 0200.
Scott Deisher
10/17/2020
$26.06
Cheers from a friend of the Jolly Dolphin, great to meet you on the water on Thursday!
Beau & Mariah Hicks
10/17/2020
$51.80
We love you all @GCBSR!
Cliff Latta
10/17/2020
$51.80
Joseph Zuraw
10/17/2020
$103.30
Huzzah!
Joseph Zuraw
10/16/2020
$257.78
Brilliant to see the great schooner ADVENTURER at Baltimore Light yesterday, the traditional Race Day. Happy 31st!
Charles Miller
10/16/2020
$100.00
Congratulations on continuing the race "virtually"
Anonymous Friend
10/16/2020
$103.30
To the Jolly Dolphin and all the other vessels who keep history alive.
Pat Nolan
10/16/2020
$26.06
Sail fast and kick some virtual butt Duncan!
Mike & Tina Moreau
10/16/2020
$103.30
Always proud to support vessel and crew of Adventurer.
Peter MacKenzie
10/16/2020
$51.80
Duncan , Thank you for all your efforts that go into such a worthy cause . I wish you and the sailing center All the Best !
Deb D
10/16/2020
$103.30
Lorena Kazmierski
10/16/2020
$26.06
Thank You Captain Duncan! Your generous spirit is invaluable!
Ronnie Anderson
10/16/2020
$26.06
John Balano
10/16/2020
$103.30
Huzzah!!!
Jim Kucher
10/16/2020
$36.35
Nicholas Thomas
10/16/2020
$51.80
Anonymous Friend
10/16/2020
$51.80
Robert Baginski
10/15/2020
$51.80
Colin Hood
10/15/2020
$103.30
Sharon Runge
10/15/2020
$51.80
Hank Schmitt
10/15/2020
$51.80
Good luck with the race and fundraising
Henry Cheng
10/15/2020
$51.80
Go Captain Duncan! Happy to be part of your journey again!
Amy Purves
10/15/2020
$257.78
Fair winds and following seas, from ANSA!
Bill Sickle
10/15/2020
$51.80
Go Adventurer!!
Jane Evans
10/15/2020
$26.06
Tom Samford
10/15/2020
$51.80
Edward S Phillips
10/15/2020
$113.24
May there always be proper winds and seas for the Downtown Sailing Center!
Carl Cole
10/15/2020
$154.79
Darryl Dennis
10/15/2020
$103.30
Sail fast, have fun, and stay safe!
Anne Popolizio
10/14/2020
$10.61
Ed Brunjes
10/14/2020
$515.24
:o)
Jim Reiter
10/14/2020
$103.30
Break a wave!
Stacy Spaulding
10/14/2020
$257.78
Go Adventurer!
Philip Johnson
10/14/2020
$51.80
Go Adventure 56!
Matthew Hammond
10/14/2020
$515.24
Set the Gollywobbler!!
Sarah Hood Salomon
10/14/2020
$103.30
HUZZAH!!!!!
Edward Parry
10/14/2020
$100.00
Philippe Duverger
10/14/2020
$257.78
Wesley Moy
10/14/2020
$104.37
Andy MCCABE
10/14/2020
$51.80
Jowin Carbery
10/14/2020
$51.80
The work you do Rena, and everyone at Downtown Sailing Center, is remarkable! Thank you
Sak Sakoda
10/14/2020
$203.03
Adventurer: Go Get'm!
Keith Jones
10/09/2020
$1.34
Total
$4,909.78