Great Chesapeake Bay Schooner Race Inc.
North Wind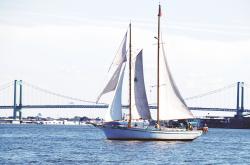 Gloucester City, New Jersey's Tall Ship, the Schooner North Wind, is home to experiential youth programs and is the premiere sailing charter in the Philadelphia/Camden County area. North Wind offers local youth the opportunity to do science and learn history, while working at sailing on the Delaware River. North Wind works hard to foster a love of sailing and the sea, and to help youth appreciate the resources available on the water.
Owned by Gloucester City, NJ, the Schooner North Wind is run by the all-volunteer Gloucester City Sail. Youth services are offered free of charge and are fully funded by public cruises (sunset, fireworks, and history), private charters, grants, and donations.
ABOUT 2020 Virtual Race
In a normal year, the Great Chesapeake Bay Schooner Race takes dozens of schooners out on the Bay, racing from Baltimore down to Norfolk. But 2020 is not a normal year.
This year, we're holding a Virtual Race! Each of our schooners has picked a nonprofit partner, and is racing to raise as much money as possible for charity. YOU can participate in the race by choosing a schooner, making a contribution, and sharing this webpage with your family and friends! 100% of gifts will go directly to charity, and will help make the Chesapeake Bay region a healthier, stronger, and more beautiful place to live.


Donations of $50 to $249 will receive a Commemorative Face Mask. Donations of $250 and above will receive a Commemorative "Q" Flag Burgee !!!!
Gifts are considered tax-deductible contributions to the Great Chesapeake Bay Schooner Race. At the end of the race, GCBSR will contribute 100% of your donation directly to your team's charitable cause.
Please note: The Chesapeake Bay schooner community could not exist without people like you, and we're eager to keep in touch. If you opt in to email communications when you donate, GCBSR will share your contact information with the schooner you support, as well as the partner nonprofit that will receive your donation. If you do not wish to be contacted, please opt out of communications on the donation form.
Supporters
Name
Date
Amount
Comments
Anonymous Friend
10/17/2020
$51.80
For Captain Lane and his love of the Chesapeake Bay
Andrea Robinson
10/16/2020
$51.80
Mitchell Brodkin
10/15/2020
$103.30
Scott Hughes
10/15/2020
$200.00
Scott Hughes
10/14/2020
$266.70
William Blazer
10/14/2020
$51.80
Fair seas and trailing winds!
Stanley Filimon
10/14/2020
$104.37
Glad to help
Sandy Hughes
10/14/2020
$52.34
Go North Wind !
Karen Lawrence
10/14/2020
$51.80
Keith & Chris Spirgel
10/14/2020
$206.28
Fair winds, North Wind!
Total
$1,140.19