Great Chesapeake Bay Schooner Race Inc.
Summer Wind - Blue Water Baltimore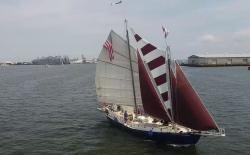 Summer Wind is a 48' steel-hulled Colvin Gazelle schooner doing public tours and private charters in Baltimore. She does five trips each day, including a History Sail that teaches about the maritime history of Baltimore and the Chesapeake Bay; afternoon Harbor Sails with lots of beach music from Bob Marley, Jimmy Buffett and many others; the Sunset Sail with the city skyline; and the popular Wine & Cheese Sail in the evenings. Known as The Small Tall Ship, Summer Wind is the only schooner in the world with its own radio station.
In 2020 Summer Wind is sailing to raise funds for the nonprofit Blue Water Baltimore. Blue Water Baltimore's mission is to restore the quality of Baltimore's rivers, streams and Harbor to foster a healthy environment, a strong economy and thriving communities. For too long, Baltimore's waterways have been plagued by trash, toxins, sewage, and polluted stormwater. These problems do more than harm our environment; they threaten the health and well-being of our residents, communities, and local businesses. Blue Water Baltimore works to change this. Through advocacy, education, monitoring and hands-on community work they strive to improve the watershed in Baltimore and across the Chesapeake Bay.
Blue Water Baltimore's mission is especially important to the crew of Summer Wind. All of the crew come from the tall ship community, where sailing is a way of life. They consider themselves stewards of the waterways and feel responsible for repairing and maintaining the sea. Both Summer Wind and Blue Water Baltimore understand that we don't just play on the Chesapeake Bay; we live here, too. And we have a responsibility to care for this special place.
ABOUT 2020 Virtual Race
In a normal year, the Great Chesapeake Bay Schooner Race takes dozens of schooners out on the Bay, racing from Baltimore down to Norfolk. But 2020 is not a normal year.
This year, we're holding a Virtual Race! Each of our schooners has picked a nonprofit partner, and is racing to raise as much money as possible for charity. YOU can participate in the race by choosing a schooner, making a contribution, and sharing this webpage with your family and friends! 100% of gifts will go directly to charity, and will help make the Chesapeake Bay region a healthier, stronger, and more beautiful place to live.


Donations of $50 to $249 will receive a Commemorative Face Mask. Donations of $250 and above will receive a Commemorative "Q" Flag Burgee !!!!
Gifts are considered tax-deductible contributions to the Great Chesapeake Bay Schooner Race. At the end of the race, GCBSR will contribute 100% of your donation directly to your team's charitable cause.
Please note: The Chesapeake Bay schooner community could not exist without people like you, and we're eager to keep in touch. If you opt in to email communications when you donate, GCBSR will share your contact information with the schooner you support, as well as the partner nonprofit that will receive your donation. If you do not wish to be contacted, please opt out of communications on the donation form.
Supporters
Name
Date
Amount
Comments
Anonymous Friend
10/17/2020
$51.80
Ronnie Anderson
10/16/2020
$26.06
Thanks for all you do!
Anonymous Friend
10/16/2020
$10.61
Amanda Colianni & Paul Davis
10/15/2020
$51.80
Let's get us that swimmable harbor! We can do it!
Lisa Forbes
10/15/2020
$257.78
Jeff Kirwan
10/15/2020
$51.80
Nancy Greene
10/14/2020
$51.80
Sail away!
Amanda Ulevich
10/14/2020
$15.76
Miss Baltimore and y'all!
Anonymous Friend
10/14/2020
$40.00
Sail On, Summer Wind!
Total
$557.41