Great Chesapeake Bay Schooner Race Inc.
Pride of Baltimore II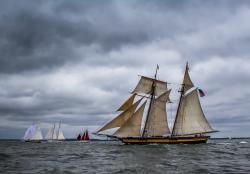 Pride of Baltimore II is an icon. For more than 30 years, she has sailed to promote historical maritime education, foster economic development and tourism, and represent the people of Maryland in ports throughout the world. Since her commissioning in 1988, Pride II has sailed over 275,000 nautical miles and visited more than 200 ports in 40 countries.

The history of Pride II is entwined with that of the Great Chesapeake Bay Schooner Race. In 1988, when the City of Baltimore launched her, Captain Lane Briggs of the Tugantine Norfolk Rebel challenged Pride II to a race from Baltimore to Norfolk, reviving a historic rivalry between schooners, captains, and cities on the Bay. With the challenge accepted, the Schooner Race was born.

Pride II is sailing on behalf of the nonprofit Pride of Baltimore, Inc., which owns and manages the ship. The organization relies on individual donations, corporate philanthropy, and grants to keep the Pride of Baltimore II sailing and serving the people of Maryland, year after year.
ABOUT 2020 Virtual Race
In a normal year, the Great Chesapeake Bay Schooner Race takes dozens of schooners out on the Bay, racing from Baltimore down to Norfolk. But 2020 is not a normal year.
This year, we're holding a Virtual Race! Each of our schooners has picked a nonprofit partner, and is racing to raise as much money as possible for charity. YOU can participate in the race by choosing a schooner, making a contribution, and sharing this webpage with your family and friends! 100% of gifts will go directly to charity, and will help make the Chesapeake Bay region a healthier, stronger, and more beautiful place to live.


Donations of $50 to $249 will receive a Commemorative Face Mask. Donations of $250 and above will receive a Commemorative "Q" Flag Burgee !!!!
Gifts are considered tax-deductible contributions to the Great Chesapeake Bay Schooner Race. At the end of the race, GCBSR will contribute 100% of your donation directly to your team's charitable cause.
Please note: The Chesapeake Bay schooner community could not exist without people like you, and we're eager to keep in touch. If you opt in to email communications when you donate, GCBSR will share your contact information with the schooner you support, as well as the partner nonprofit that will receive your donation. If you do not wish to be contacted, please opt out of communications on the donation form.
Supporters
Name
Date
Amount
Comments
Frank Atkinson
10/17/2020
$51.80
Greg Bower
10/17/2020
$51.80
Kit Cusick
10/17/2020
$102.02
Missing Pride II, Captains, and the Golden Crew of 2013
Peter Bolster
10/17/2020
$26.06
Deirdre O'REGAN
10/17/2020
$20.91
Sail on!
Shonte Eldridge
10/16/2020
$51.80
Pride of Baltimore Board Member
Ronnie Anderson
10/16/2020
$26.06
#allwoodallgood
Robert Wallace
10/16/2020
$51.80
Keep the spirit of Melbourne S., Fred H., and Thomas G. going strong!
Lynn Smith
10/15/2020
$50.00
Cheryl Kramer
10/14/2020
$20.91
Love from Minnesota!
Andrew Attman
10/14/2020
$1,249.01
Nick Wheeler
10/14/2020
$26.06
Total
$1,728.23