Great Chesapeake Bay Schooner Race Inc.
Woodwind - GCBSR Education Program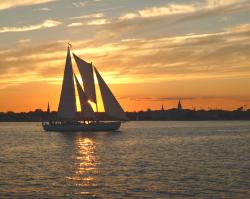 Schooner Woodwind was built to make sailing dreams come true back in 1993 by the Kaye family. For the past 27 years, guests from all over the world have sailed on her for public cruises, private events, multi-day cruises and educational cruises. Just 5 years later her sister, Woodwind II, set sail. Woodwind II is the "movie star" of the family - she played an important role in the movie Wedding Crashers. But it's the classic Woodwind that sails every year in the Great Chesapeake Bay Schooner Race - and she's known to be a fast competitor!
This year, Woodwind is working in partnership with GCBSR's education program to host educational programs aboard the vessel. Donations to Woodwind's campaign will be used to provide sailing experiences free of charge to local youth. Offering programs in STEM and navigation, Woodwind helps kids experience the magical Chesapeake Bay under full sail.
ABOUT 2020 Virtual Race
In a normal year, the Great Chesapeake Bay Schooner Race takes dozens of schooners out on the Bay, racing from Baltimore down to Norfolk. But 2020 is not a normal year.
This year, we're holding a Virtual Race! Each of our schooners has picked a nonprofit partner, and is racing to raise as much money as possible for charity. YOU can participate in the race by choosing a schooner, making a contribution, and sharing this webpage with your family and friends! 100% of gifts will go directly to charity, and will help make the Chesapeake Bay region a healthier, stronger, and more beautiful place to live.


Donations of $50 to $249 will receive a Commemorative Face Mask. Donations of $250 and above will receive a Commemorative "Q" Flag Burgee !!!!
Gifts are considered tax-deductible contributions to the Great Chesapeake Bay Schooner Race. At the end of the race, GCBSR will contribute 100% of your donation directly to your team's charitable cause.
Please note: The Chesapeake Bay schooner community could not exist without people like you, and we're eager to keep in touch. If you opt in to email communications when you donate, GCBSR will share your contact information with the schooner you support, as well as the partner nonprofit that will receive your donation. If you do not wish to be contacted, please opt out of communications on the donation form.
Supporters
Name
Date
Amount
Comments
Donald and Teresa Williams
10/17/2020
$206.28
Jennifer Kaye
10/17/2020
$51.80
I want a cool mask!
Richard Biro
10/16/2020
$78.36
Miss You ALL...
Carolyn Crighton
10/16/2020
$51.80
Krista Wallach
10/16/2020
$20.91
Russ & Joyce
10/16/2020
$309.27
AWESOME to sail with the WW team in the 2012 GCBSR!
Lisa Holden
10/16/2020
$51.80
Rainer Muhlbauer
10/16/2020
$257.78
So many fond memories of so many fun races down the bay. I really miss it this year.
Peter Kellogg
10/16/2020
$2,574.97
George & Kathy Vorwick
10/16/2020
$257.78
On behalf of our daughter, Delaney. Sail fast
Michael Moore
10/15/2020
$257.78
put up the Fish!
Brian Grant
10/15/2020
$51.80
Eric Moseson
10/15/2020
$103.30
Ellen Kaye
10/15/2020
$26.06
Go Woodwind!
Edward S Phillips
10/15/2020
$113.24
Ya can't beat the education a Schooner gives!
Joshua & Lisa C. Navone
10/15/2020
$520.60
Paul & Amy Barhag
10/15/2020
$74.27
We miss you and your PUNCH! We'll beat you next year!
Buford & Camille Rowland
10/14/2020
$103.30
Barbara Fay
10/14/2020
$26.06
Anne Hays
10/14/2020
$51.80
A good cause. Looking forward to my facemask!
Mary McNelly
10/14/2020
$154.79
I will always remember with great fondness/happiness being part of paying crew in Great Chesapeake Bay Schooner Race October of 2007...We Won Our Class...something I will ALWAYS Cherish...Mike too as he is smiling down at the Kaye Family...love to ALL! Deb
Susan Brannigan
10/14/2020
$51.80
Clyde Nordan
10/14/2020
$51.80
Traditional Coffee to be shipped.
Total
$5,447.35